Cinnamon crumb muffins!!! Because yes, cinnamon crumb is potentially the best man made invention ever and the more that you make the more you can snack on while baking….may or may not know this from real life experience…
I Have a Confession…
I do, however, have a sad, sad confession to make (besides spelling confession wrong on my first try). I don't like blueberry muffins. I know. It's pretty shocking. Some of you may hate me now. In fact, I don't like any dessert with cooked fruit in it. Yes, that means pies, cobblers, muffins, cakes, etc. Why am I like this? Who knows.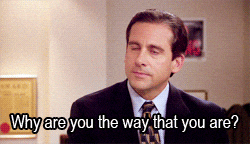 But, I am a huge cinnamon lover. I would lay my life down for a good cinnamon crumb topping. The more the better; whenever I see a recipe with a crumb topping I tend to double or triple it just to have enough of that sweet, sweet goodness. Rest assured that this recipe has PLENTY of buttery, cinnamony (I don't think that's a real word but please pretend it is) crumbles for all your wildest muffin dreams.
These bad boys not only have a cinnamon crumb topping, but also sandwiched in between. My neighbors and parents all gave raving reviews of the muffins and I am very confident you'll love them just as much.
What You'll Need for Cinnamon Crumb Muffins
Butter (because butter is life)
Flour
Brown sugar
Granulated sugar
Baking powder
Salt
Buttermilk
Sour Cream
Egg
Vanilla
Cinnamon (can't have cinnamon crumb muffins without cinnamon!)
How To Make
I typically always make my cinnamon crumb before I do anything else. Otherwise the muffin batter sits while you're trying to throw together the cinnamon crumb and it's just a hassle. SO make the cinnamon crumb first! I like to use a food processor but you can totally use a fork and mash it up that way. Next you can start constructing the batter. Melt your butter first so it isn't extremely hot when you add it to the wet ingredients. Whisk together your flour, sugars, baking powder and salt, and set aside. Using a whisk, a kitchen aid mixer, or a handheld mixer, beat the melted butter, buttermilk, sour cream, egg and vanilla. Pour in the dry ingredients and bam you got your batter!
Fill the cupcake liners halfway. Spoon in a heaping teaspoon of cinnamon crumb, and then fill the rest of the way. Once all your batter is done spoon the crumb topping to the tops of the muffins. Bake at 400 for 20-23 minutes. Enjoy the cinnamon crumb muffins warm 🙂
Cinnamon Crumb Muffins
Moist and fluffy muffins with cinnamon crumb layers and topping
Ingredients
Muffins
6

tbsp

unsalted butter

melted

2

cups

flour

spoon & leveled

1/2

cup

brown sugar

lightly packed

1/4

cup

granulated sugar

1

tbsp

baking powder

¾

cup

buttermilk

room temperature

¼

cup

sour cream

room temp

1

egg

room temperature

2

tsp

vanilla
Crumb Topping
1/3

cup

brown sugar

tightly packed

1/2

cup

flour

spoon & leveled

1.5

tsp

cinnamon

4

tbsp

butter

cold & cubed
Instructions
Using a food processor, add all the ingredients for the topping. Pulse until the mixture is crumbly and resembles wet sand. Set aside.

Melt the 6 tbsp of butter used for the muffins. Let cool slightly

Preheat your oven to 400º and line a muffin tin with paper liners.

Combine the flour, brown sugar, granulated sugar, baking powder, and salt in a medium bowl. Whisk to combine. Set aside.

Using a stand mixer with a paddle attachment, beat the melted butter, buttermilk, egg, and vanilla together on medium speed until combined. Pour in the dry ingredients and beat until combined. Scrape down sides as needed.

Spoon half of the batter into all the liners. Using your fingers crumble in some of the cinnamon mixture and then top with more batter. Once all the muffins are topped off, use the remaining crumb for the muffin tops. Bake for 20-23 minutes. Muffins will be lightly golden and a toothpick insterted will come out clean.
Other Muffin Recipes I Love
https://www.theyummyyenta.com/blog/full-of-fruit-muffins